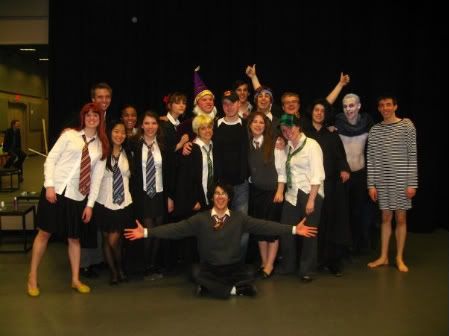 So I've recently come across possibly the coolest thing in existence and you may know it. Does A Very Potter Musical ring a bell? Well if it doesn't, SHAME. Go watch it right now. I think why I love it so much is because it was just too funny. It was a twist on all the Harry Potter books but made into a comedy musical. Who could ask for more honestly? Oh I don't know maybe awesome songs with very talented people? Yup, that about sums it up. I'll assume you've seen it by now and if you still haven't then enjoy these funny quotes that I loved bunches!
Awesome Quotes With No Pictures!
Cedric: "Hufflepuffs are particularly good finders!"

Dumbledore: "What the HELL is a Hufflepuff?"




Cedric: "*Sits down*"
Ron: "Oh my god! Lay off malfloy, okay? She may be a pain in the ass but she's my pain in the ass."
Draco: "Now you're just being cute. I CAN'T GO TO PIGFARTS. IT'S ON MAAARS, YOU NEEED A ROCKETSHIP. Do you have a rocketship, Potter? I bet you do. You know, not all of us inherited enough money to buy out NASA when our parents died; Look at this. Rocketship Potter. Starkid Potter. Moooonshoes Potter. TRAVERSING THE GALAXY FOR INTERGALATIC TRAVELS TO PIGFARTS."




Ron & Harry: "FLOO POWDER POWER, FLOO POWDER POWER, FLOO POWDER POWER, FLOO POWDER POWER!"




Harry: "I'll take you down to Winnipeg.... THAT'S IN CANADA!!!!

"



Ginny: Konitchi wa Cho Chang! It is good to meet you. I am Ginny Weasley.




Lavender: BITCH! I ain't Cho Chang!




Ron: THAT'S LAVENDER BROWN! *slaps* RACIST SISTER!



The last one is my absolute favorite!
Anyway, I think this is enough for one day, now all awesome fans can find some of the quotes a bit easier. I'll end this geek blog with a few of the funniest moments of the musical. Enjoy!